***************************************************************************************
Thanks for visiting the website of the adventure traveller Simon Reeve
WINNER - One World Broadcasting Trust Awards -
for an "outstanding contribution to greater world understanding"


Simon is an adventurer, New York Times bestselling author and TV presenter who has travelled to more than 110 countries making multiple award-winning TV series. They include Caribbean, Sacred Rivers, Indian Ocean, Tropic of Cancer, Equator, Tropic of Capricorn, Pilgrimage and Australia (Winner of the 2013 British Travel Press Award for Broadcast Travel Programme). He has received a One World Broadcasting Trust Award for "an outstanding contribution to greater world understanding" the prestigious Ness Award from the Royal Geographical Society, and the Special Contribution Award at the Travel Media Awards.

The BBC describes Simon as "British television's most adventurous traveller", and after a decade spent making more than 70 programmes Simon has become a familiar face on British TV, well known for his extraordinary foreign journeys. Most of Simon's documentaries combine travel and adventure with global environmental, wildlife, and conservation issues, and have taken him across jungles, deserts, mountains and oceans, and to some of the most beautiful, dangerous and remote regions of the world. Simon's dodged bullets on frontlines, hunted with the Bushmen of the Kalahari, dived with manta rays, seals and sharks, survived malaria, walked through minefields, tracked lions on foot, been taught to fish by the President of Moldova, adopted by former headhunters, and detained for spying by the KGB.

Simon's own journey started after he left school with few qualifications. After a period on the dole, he ran charity shops, stacked shelves, and eventually found a job as a post-boy on a newspaper. He quickly graduated to research and writing, and then spent years working, often covertly, on investigations into nuclear smuggling and terrorism. His 1998 investigative book The New Jackals, the first in the world on Osama bin Laden and al Qaeda, became an international bestseller, and was followed by his book One Day in September, which is also an Oscar-winning documentary movie.

Since making the leap to television Simon's adventures have been broadcast in dozens of countries, enthralling millions.

The Independent: "TV's most interesting globetrotter"
Radio Times: "what's so delightful about Reeve is his openness and respect…The engaging Reeve brings enthusiasm and openness to all his documentaries."
The Daily Telegraph said: "like all the best travellers, Reeve carries out his investigations with infectious relish, and in the realisation that trying to understand the country you're in is not just fascinating, but also hugely enjoyable."
The Times has said: "Reeve is in a class of his own".
Lonely Planet - Tom Hall, Travel Editor: "The best travel television programmes of the past five years"
The Observer: "Simon Reeve, a man whose very name is a guarantee of interesting television. Outstanding."

On this site you can find out more information on Simon's journeys and books.

TELEVISION:

Big Life Fix - Children in Need Special - coming soon
Russia - 2017 -
Turkey - 2017 -
Big Life Fix - 2016

Greece - 2016
In 'Greece with Simon Reeve', Simon travels around one of the most beautiful, troubled and extreme countries in Europe, from the islands of the Aegean to the rugged and mountainous north.

Ireland - 2015
Ireland with Simon Reeve explores the Republic of Ireland and Northern Ireland in a new two-part series. Both form one of the most beautiful islands in the world: a place steeped in history, culture and belief, but one with a complex and troubled past.
Daily Mail: "Pick of the Week…unique encounters and experiences"
The Observer: "Reeve's programmes are always engaging…and this two-part tour is no exception"
Daily Mirror: "Don't Miss…an epic journey to explore the landscape and people of Ireland"

Caribbean... 2015
Simon travels around the edge of the Caribbean Sea for a stunning new 3x1hr series that blends travel with wildlife, issues, adventure, and incredible insights into a glorious region of the world.

Wildfires 2014: Inside the Inferno
Radio Times: "Thrilling"

Sacred Rivers - broadcast during 2014.
Reviews

The Tea Trail and The Coffee Trail - 2014

Pilgrimage - 2013 - for centuries pilgrimage was one of the greatest adventures on earth, involving epic journeys across the country and around the world. This series sees Simon retrace the exciting adventures of our ancestors.
Daily Mail: "a truly miraculous journey"
TV Times: "a truly engaging first leg…4 stars"
Radio Times: "Pick of the Week"
The Observer: "Outstanding…The BBC has had a few goes at documentary series on this theme, but they all pale in the face of this three-part project by Simon Reeve, a man whose very name is a guarantee of interesting television."

Australia - 2013 - the first episode of Simon's journey takes him from the 'red centre' of the country south to the wine region, then west to Perth. On the second he travels across the remote and wild north to the Great Barrier Reef. And his third takes him down the east coast to the magnificent cities of Sydney and Melbourne.
Radio Times: "Simon Reeve is about as adventurous as travel journalists get. The man behind BBC documentaries House of Saud, Equator and Indian Ocean has investigated terrorism, been shot at and suffered malaria, all to bring us thrilling TV."
The Guardian: "Simon Reeve is that floppy smiley chap who goes to all the places the Foreign Office website says you shouldn't. He's still a nice travel companion…and he finds good stories"
The Observer: "Reeve is a natural storyteller with a good eye for the topical…at every turn, he's talking to people…Intelligent reporting bolstered by good photography. Recommended."

Cuba with Simon Reeve was shown on the BBC during December 2012 info

Indian Ocean - in this epic 6-part TV series Simon travelled around the edge of the Indian Ocean. Starting his journey in South Africa, Simon headed up the east coast of Africa, around India and back down the western coast of Indonesia to Australia. The extraordinary adventure took Simon to 16 countries, as he braved the horrors of Mogadishu in Somalia, perhaps the most dangerous place on the planet, and travelled on to the beautiful Maldives, Mauritius and the Seychelles.
Radio Times - Documentary of the Week: "Epic…capturing big issues in chatty encounters. Reeve's winning combination of a broad smile and enough journalistic edge to cut through tourist clichés makes for a great watch that also educates us"
Daily Telegraph: "compelling and sometimes uncomfortable television...digging deep beneath the white-sand beaches and swaying palm trees to come up with all sorts of gems and muck"
Daily Mail: "Five Stars…terrifically varied and engaging...compelling...fascinating viewing"
Mail on Sunday: "You won't lack for breathtaking beauty in Reeve's new series, but this is far more than just another bloodless travelogue... Reeve also fearlessly explores troubled war zones and crime-ridden urban areas along the way"

Tropic of Cancer - shown on BBC2 during 2010, and around the world during 2011, Simon circled the world following the line that marks the northern border of Earth's tropical region. After his acclaimed series Equator and Tropic of Capricorn this epic trip completed Simon's trilogy of journeys exploring the tropics. Simon started his journey on the paradise beaches of Mexico's Pacific Coast, and then circumnavigated the planet, heading east across the Caribbean, the Sahara, crossing borders in North Africa closed to foreigners for decades, and then on through the deserts of Arabia and the remote jungles of Asia, to finish in Hawaii. He visited 18 countries, meeting amazing people, witnessing bizarre and beautiful sights, and encountering spectacular and endangered wildlife
Radio Times: "Revelatory, moving and intriguing, it's much more than just a travelogue."
The Times: "a real gem… Reeve is in a class of his own."

Buy the Tropic of Cancer DVD from Amazon

Explore - 2009 - Simon and a team of BBC presenters travel to some of the most exotic and extreme locations on earth. Explore blends travel with current affairs to get under the skin of some fascinating countries. Sunday Times: "Pick of the Week…Encompassing landscape, environment, human interest, football and politics, the team presents a rounded, vibrant and original picture."

Tropic of Capricorn - during 2008 Simon tracked the Tropic of Capricorn around the globe, heading east through Africa, Australia and South America, discovering breathtaking sights, strange rituals, desperate poverty and exotic wildlife. The 22,835-mile Tropic of Capricorn marks the southern border of the tropics, and crosses some of the wildest and most spectacular parts of our planet...
Daily Mail: "Five Stars…a series that will go down as one of the high points of the television year…brilliant…hugely enjoyable…eye-opening…amazing sights…a fascinating, illuminating journey"
Radio Times: "moving stories and remarkable sights"
Daily Mirror: "fun, fascinating and frightening"

Equator - 2006 - this BBC TV series took Simon on an epic journey through the centre of the Tropics - the region of the world with both the richest biodiversity, and perhaps the greatest concentration of human suffering. The series was a Silver Award winner at the Wanderlust Travel Awards.
Radio Times: "an extraordinary journey…revelatory…thrilling and thought-provoking…hits us with jaw-dropping facts…eye-opening…delivers a string of revealing snapshots."
The Observer: "excellent…Reeve is charming, light-hearted and funny, with a good sense of the ridiculous"

Places That Don't Exist - 2005 - a TV series in which Simon travelled to a group of unrecognised nations – countries so obscure they don't officially exist.
Daily Telegraph: "Exemplary...riveting… eye-opening…superb"
Daily Mail: "Unmissable...makes the blood boil...It would be good if this brave programme stirred a few consciences. Shaming."

Meet the Stans - 2003 - in Simon's first TV adventure he travelled around the Central Asian states of Kazakhstan, Kyrgyzstan, Tajikistan and Uzbekistan.
The Guardian: "…a thrilling postcard from the edge"
The Times: "Simon Reeve's journey through Kazakhstan is a first-class Boy's Own adventure on film and illuminating too. I can't imagine anyone switching off who stays for the first five minutes."


'Pilgrimage with Simon Reeve' - shown on the BBC during 2013:

Amazon are selling the Tropic of Cancer DVD with their usual lovely discount:


Simon's TofCapricorn book: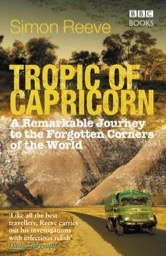 Paperback edition


BOOKS:
Simon has written or edited a number of travel and non-fiction books investigating subjects such as terrorism, biological warfare and international organised crime. His books include:

Tropic of Capricorn - published by BBC Books, this details Simon's journey around the southern border of the tropics, providing much more detail than the TV series and lots of new stories.
Daily Telegraph: "like all the best travellers, Reeve carries out his investigations with infectious relish, and in the realisation that trying to understand the country you're in is not just fascinating, but also hugely enjoyable."

The New Jackals: Ramzi Yousef, Osama bin Laden and the future of terrorism - this book, which warned of a new age of apocalyptic terrorism, was the first in the world on bin Laden and al Qaeda. Originally published in 1998 it has been a New York Times and international bestseller.
Described as Essential or Recommended Reading by scores of newspapers, magazines, government officials and academics around the world.
The Washington Post: "A painfully relevant book"

The Washington Times: "a compelling reconstruction...an outstanding account describing a terrible and growing peril".
Ahmed Rashid (bestselling author of the critically-acclaimed Taliban): "truly original investigative work...Reeve has had unprecedented access to Arab sources as well as US intelligence sources"
BBC News: described Simon as "perhaps the world's leading expert on al Qaeda and Osama bin Laden".


One Day in September: the story of the 1972 Munich Olympics massacre and Israeli revenge operation 'Wrath of God' - published by Faber in the UK and Arcade in the US. The documentary film of the same name, narrated by the actor Michael Douglas, won an Oscar for best documentary movie. The story of the Munich massacre and subsequent Israeli revenge operation was also turned into a major feature movie by Steven Spielberg.
The New Yorker: "Highly skilled and detailed...it's a page-turner"
Daily Mail: "This astonishing record of the massacre at the Munich Olympics should be compulsory reading...I read in one sitting the gripping narrative"
International Herald Tribune: "a masterclass in investigative journalism...brilliantly recaptures the tension of the day as well as the human cost of the botched police operation".


Follow @simon_reeve


Simon Reeve compilation reel:

Turkey with Simon Reeve:
Caribbean with Simon Reeve':


'Travel CV' interview with Wanderlust travel magazine (1 of 5):


Take a look at Simon's channel on YouTube.


Disclaimer: The information on this website was as accurate as possible when it was written, but situations change. We accept no responsibility for any loss, injury or inconvenience sustained by anyone resulting from this information. You should conduct your own research before traveling abroad and check for the latest information on critical issues such as security, visas, health and safety, customs, and transportation with the relevant authorities before you leave.