THE NEW JACKALS:
Ramzi Yousef, Osama bin Laden and the future of terrorism

by Simon Reeve

Published by Andre Deutsch and NUP in 1999
ISBN: 0233050485
The Washington Post: "A painfully relevant book"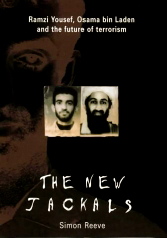 The first book in the world on bin Laden and al Qaeda, this New York Times bestseller warned of a new age of apocalyptic terrorism.
While researching the book Simon traced and interviewed bin Laden supporters and senior FBI, CIA, and Asian intelligence officials, had clandestine meetings with spies and militants in tea houses, car parks and burger bars, was followed by secret agents, and spent hours hiding in disguise while searching for a former Lebanese arms smuggler.
Classified documents and evidence obtained by Simon detailed the existence, development and aims of the most dangerous terrorist organisation in modern history. The resulting book was published in the US and UK in 1998 and 1999, with the conclusion an apocalyptic terrorist attack by al Qaeda was inevitable. The New Jackals was published in Britain and the United States in 1998 and 1999. Although only a small number of copies were sold in the USA prior to 2001, the American Association of University Presses states that during the three months after September 11, 2001, The New Jackals was one of the three best-selling books in the United States.
It has since been published, translated and distributed in countries ranging from Holland to China, and Australia to South Korea. It is a New York Times and international bestseller.
Description from the cover of the book:
"The New Jackals is essential reading for anyone seeking insights into the new breed of terrorists - men dedicated to mass killing and willing to die for their cause - behind the devastating strikes on the World Trade Center and the Pentagon on September 11, 2001. A new epilogue by author Simon Reeve assesses the current status of the sinister al Qaeda network and warns that the West remains vulnerable to further apocalyptic attacks, possibly from biological and nuclear weapons of mass destruction."

Described as Essential or Recommended Reading by scores of newspapers, magazines, government officials and academics around the world, including: Newsweek magazine; US News & World Report; Time magazine; The Economist; Financial Times; The New York Times; Le Monde; Encyclopaedia Britannica
Media reviews of The New Jackals:

"Simon Reeve's book The New Jackals presents data he gathered on Yousef and bin Laden in a straightforward manner without spinning conspiracy theories. Reeve had excellent access to senior FBI officials who dealt with Yousef and have been tracking bin Laden. Reeve's portrait of Yousef is well done, graphically portraying Yousef's genius for disguise, organisation, leadership, and designing unique explosive devices. As important, Reeve painstakingly describes the worldwide Sunni community in which Yousef moved at will and undetected until he was undone by his own cockiness. Travelling unnoticed, and finding hubs of support in North America, the Middle and East Asia, South Asia, Europe, and North Africa, Yousef used the same Sunni Islamist miieu that supports bin Laden's leadership and activities, and that in part explains bin Laden's success. Reeve's...bottom line is accurate."
From 'Through Our Enemies' Eyes: Osama bin Laden, Radical Islam, and the Future of America (Page 283); written by
'Anonymous' – later revealed to be Michael Scheuer
, a 22-year CIA veteran who served as the Chief of the bin Laden Unit at the CIA Counterterrorist Center from 1996 to 1999, and resigned from the CIA in 2004.


The Washington Post:
"A painfully relevant book"


The Washington Times:
"A compelling reconstruction... Mr Reeve's important work...is an outstanding account describing a terrible and growing peril"


Philadelphia Inquirer:
"indispensable information…detailed and readable"


The Observer:
"Simon Reeve...the first to warn the world about al Qaeda"


Paul L. Williams, FBI
consultant on international terrorism and author of Al Qaeda: Brotherhood of Terror: "I highly recommend that you pick up a copy of The New Jackals. The book is truly prophetic...Reeve is a highly respected investigative journalist...His book is riveting"

"Meticulously documented" –
Samuel M. Katz,
author of Relentless Pursuit: the DSS and the Manhunt for the al-Qaeda Terrorists


Newsweek:
"a highly readable tour of modern terrorism" - A 'Newsweek Recommended' book


BBC
Television News: "Simon Reeve...perhaps the world's leading expert on al Qaeda and Osama bin Laden"


U.S. News & World Report:
"Drawing on unpublished reports, interrogation files and interviews with senior FBI agents, Reeve gives a stirring report on two of the most dangerous men in the world, Ramzi Yousef and Osama bin Laden, and the attempts to capture them"


The Express:
"Reeve...one of the world's leading experts on Osama bin Laden's al Qaeda network"

Rated Number One by the Guardian newspaper in a list of the top ten books on the terror crisis


The Sunday Times:
A "detailed, insider account of how the FBI, CIA and other agencies get their man"


Far Eastern Economic Review
, book review by
Ahmed Rashid, bestselling author of the acclaimed Taliban
: "In the first truly original investigative work on the new generation of Islamic fundamentalists and the terrorists they have spawned, journalist Simon Reeve, an investigative reporter for London's Sunday Times, has broken fresh ground tracking the lives of Yousef and Bin Laden, and explaining the intricate web of alliances and terrorist cells they have established around the world. Both men have spawned a new generation of militants who have latched on to terrorism - not based on any real Islamic ideology, but because of their hatred for the West. Reeve perceptively explains how little both men actually have to do with Islamic teachings or fundamentalism. He points out that neither have ever formally learned or acquired the Islamic pedigree to become a real leader of Islam. In The New Jackals, Reeve also tracks the massive international effort to catch these two men, interviewing more U.S. Central Intelligence Agency and Federal Bureau of Investigation officials than any other author who has tackled this subject. Reeve has had unprecedented access to Arab sources as well as U.S. intelligence sources"


The New York Post:
"compelling reading...rich in detail...brings to life a man who has rapidly emerged as the most reviled political figure since Adolf Hitler"
BUY THE BOOK:
USA
: get the book and a discount at Amazon
here
USA
: Simon's publishers are
here
Germany
: buy Simon's books from Amazon Germany
in English
and
here
Germany
: buy One Day in September 'Ein Tag im September'
in German
Canada
: books by Simon Reeve from Amazon.ca -
here
Italy
: buy
here
,
here
,
here
and
here
. Simon's publishers are Bompiani - their 'I Nuovi Sciacalli' website is
here
.

Turkey
: buy
here
,
here
and
here
. Simon's publishers are Everest -
here
and
here
Holland
: Simon's publishers are Prometheus -
here
Holland
: book details
here
Japan
: you can buy Simon's books at these sites:
1
,
2
,
3
Brazil
: book details are found
here
Australia
:
here
France
:
Amazon.fr
Korea
: published by Joongsim

Thailand
: pubished by Pearl

China
: published by Hainan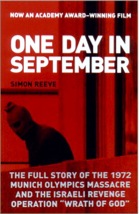 Articles written by Simon
More information on Simon's book
One Day in September
Home l Books l TV l Articles l Contact l Questions? l Biography

see the award-winning photography of James Reeve, Simon's brother, here