MUNICH 1972

The Games of the XX Olympiad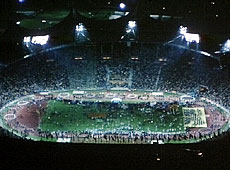 The 1972 Munich Games were the largest yet, setting records in all categories, with 195 events and 7,173 athletes from 121 nations. They were supposed to celebrate peace and, for the first ten days, all did indeed go well. But in the early morning of 5 September, eight Palestinian terrorists broke into the Olympic Village, killed two members of the Israeli team and took nine more hostage. In an ensuing battle, all nine Israeli hostages were killed, as were five of the terrorists and one policeman.
The Olympics were suspended and a memorial service was held in the main stadium. In defiance of the terrorists, the International Olympic Committee ordered the competitions to resume after a pause of 34 hours. All other details about the Munich Games paled in significance, but it did have its highlights. Archery was reintroduced to the Olympic programme after a 52-year absence and handball after a 36-year absence. Whitewater (or slalom) canoeing was included for the first time.
The 1972 Games were also the first to have a named mascot: Waldi the dachshund. U.S. swimmer Mark Spitz won an incredible seven gold medals to go with the two he had earned in 1968. Lasse Viren of Finland fell midway through the 10,000m final, but rose and set a world record to win the first of his four career gold medals. Freestyle wrestler Ivan Yarygin of Russia pinned all seven of his opponents en route to his first Olympic championship in the heavyweight division. West German, Liselott Linsenhoff, competing in the dressage event, became the first female equestrian to win a gold medal in an individual event.
The media star of the Munich Games was the tiny Soviet gymnast, Olga Korbut, whose dramatic cycle of success in the team competition, failure in the individual competition and renewed success in the apparatus finals captured the attention of fans worldwide.

121 NOCs (Nations)
7,134 athletes (1,059 women, 6,075 men)
195 events
(information from International Olympic Committee)


From
Sony
:
It's easy to overlook the Games of the XXth Olympiad because of its background of violence. But to many, the Olympics means the seven gold medals of U.S. swimmer Mark Spitz, Olga Korbut's debut and the Soviet Union's stunning defeat of the United States in men's basketball.
Of course, the controversy intruded on the games themselves, first by allowing the games to continue while the hostage drama continued, then by halting the games and holding a memorial service for the slain athletes. International Olympic Committee president Avery Brundage came under heavy criticism for not immediately suspending the games.
Nevertheless, the games were the high point for many of the more than 7,000 athletes from 122 nations who competed. Soviet sprinter Valery Borzov won the 100 and 200 meter races when two of his competitors missed their heats because of scheduling mix ups. Lasse Viren of Finland took the gold medal in the 5,000 and 10,000 meter races.
Frank Shorter was the first American since 1908 to win the marathon. Shane Gould of Australia took three gold medals, a silver and a bronze in women's swimming. And Mark Spitz's seven gold medals (three in relays) set a record for the most gold medals won. Soviets gymnast Olga Korbut (three gold and a silver) and weightlifter Vasily Alekseyev made their debuts at the games taking gold. Teofilo Stevenson of Cuba won the first of his three boxing gold medals in the heavyweight division. And to many Americans, the most stunning upset was the Soviet Union's 50-49 win over the U.S. men's basketball team. The Soviets made a long pass down the court with only three seconds left on the clock.