INDIAN OCEAN
with Simon Reeve

pirates, politics and paradise on a journey of extremes
to Mogadishu and the Maldives…
________________________________________________

MAJOR NEW BBC TV ADVENTURE TRAVEL SERIES - 6 x 1 hours
TRANSMISSION: FROM 22nd APRIL 2012 on BBC2

AVAILABLE TO DOWNLOAD NOW ON ITUNES - CLICK HERE
________________________________________________

In his most exotic and extreme adventure yet, Simon Reeve travels around the edge of the beautiful Indian Ocean in this forthcoming, epic new 6 x 1hr BBC2 TV series.

Starting his journey in South Africa, Simon travels around the coast of the Indian Ocean, heading up the east coast of Africa, around India and back down the western coast of Indonesia to SW Australia. The extraordinary adventure takes Simon to 16 countries, as he braves the horrors of frontline conflict in Mogadishu in Somalia, perhaps the most dangerous place on the planet, and visits the beautiful Maldives, Mauritius and the Seychelles.

On his journey Simon travels by boat, car, train and plane. He encounters pirates, dives with sharks, patrols with Dutch Special Forces, goes underwater spear-fishing, dines in an underwater restaurant, stumbles into a seedy drug-den, visits a 5-star seaside palace housing thousands of refugees, meets a Yorkshireman on his Seychelles island paradise, and has close encounters with the amazing wildlife of the Indian Ocean, including lemurs, penguins, dolphins, elephants and manta rays.

Throughout the epic journey, Simon travels with his trademark enthusiasm, humour and curiosity, exploring parts of the world few other outsiders get to see. The Indian Ocean BBC film-crew who accompanied him have captured stunning images around the ocean from land, sea and air.


More info:

At more than 6,000 miles wide, the Indian Ocean is the third largest on the planet. Vast quantities of oil and half of all global container traffic passes through it, making it strategically vital for the major world powers. At a time when our seas face extraordinary environmental threats and challenges, Simon's new journey is a riveting travelogue that blends in history, adventure, current affairs, culture, wildlife, conservation, and offers unique insights into life on, in and around the glorious INDIAN OCEAN.


Photos:
1
,
2
,
3
,
4
"Travelling around the Indian Ocean was an extreme and extraordinary adventure that took me from the horrors of Mogadishu to the beauty of the Maldives. I went to some of the most incredible places on the planet and got my feet onto picture-postcard beaches I previously only imagined in my dreams. But the journey wasn't just about sunny beaches. I'm really keen for viewers to understand more about the lives of people who live around the Indian Ocean, so the team and I delved into stories of poverty, conflict, drugs, smuggling, and piracy. We filmed amazing sights and dark issues, along with wildlife, history, current affairs and culture. It was fascinating to explore this incredible region, on a journey that showed me there's so much more to the Indian Ocean than just gorgeous holiday islands. The Indian Ocean is a vast, stunning and tantalising area of our world" - said Simon.

MORE OF SIMON'S KEY EXPERIENCES IN THE SERIES:

– dropping into a shark cave on his very first scuba dive in the open-sea
– discovering what connects a tiny mollusc and a drug epidemic in South Africa
– travelling on a giant container ship which uses cardboard to evade pirates
– uncovering the ancient history of Zanzibar and the story of the world's shortest war
– meeting a sailor called Nelson who hunts for the fin of the most important fish in the sea
– eating a plate of curried fruit bat on a beach in the Seychelles
– wrangling penguins in South Africa
– meeting island beachcombers who recycle the world's discarded flip-flops into toys
– sleeping in a tiny reed village hut in a river delta home to stunning wildlife
– changing vast numbers of banknotes at a market in the dangerous Horn of Africa
– taking Somali youngsters for their first ever dip in the sea
– dodging bullets on the frontline in Mogadishu
– watching a bizarre trade as smugglers race illicit fridges to Iran in tiny speedboats
– diving on beautiful reef & discovering a groundbreaking project regenerating threatened coral
– landing a catch alongside locals on a traditional 'pole & line' tuna fishing boat in the Maldives
– joining millions of pilgrims at a festival immersing the god Ganesh in the Indian Ocean
COUNTRIES/AREAS VISITED ON THIS JOURNEY:
South Africa
Mozambique
Tanzania
Zanzibar
Madagascar
Mauritius
the Seychelles
Kenya - Lamu
Somalia - Mogadishu
Somaliland
Oman - Musandam Peninsula
India – Gujarat, Mumbai
the Maldives
Sri Lanka
India – Orissa
Bangladesh
Indonesia
Australia
REVIEWS OF INDIAN OCEAN:
"There are few people who can skip from war to dolphin-watching without seeming trite, but Simon Reeve is one of them. Whether he's talking to a soldier on the frontline or a fisherman on the beach, the changes in tone never jar – it makes fascinating viewing. This excellent series, in which he tours 16 of the countries that border the Indian Ocean, is as compelling as ever. In this third episode, he heads north along Kenya's beautiful coast, through war-torn Somalia and the Horn of Africa. En route, Reeve highlights issues including piracy, terrorism and the plastic pollution blighting the world's beaches. Considering he was the first to alert the world to the threat of Al Qaeda it would be foolish not to listen."
Daily Mail

"Epic…capturing big issues in chatty encounters. Reeve's winning combination of a broad smile and enough journalistic edge to cut through tourist clichés makes for a great watch that also educates us. Documentary of the Week."
Radio Times

"You won't lack for breathtaking beauty in Reeve's new series, but this is far more than just another bloodless travelogue... Reeve also fearlessly explores troubled war zones and crime-ridden urban areas along the way"
Mail on Sunday
"In previous series, Equator, Tropic of Capricorn and Tropic of Cancer, our boyish presenter…has quartered the globe in search of stories about people and places, and how they interact. The result has been compelling and sometimes uncomfortable television, delivered with a winning mixture of Palinesque charm and the investigative instincts he honed as an author of hard-hitting books on terrorism.
In Indian Ocean – in which he follows the coastlines of the third-largest ocean in the world, from South Africa to Australia via Madagascar, Somalia, the Seychelles, India and many other points in between – he's at it again, digging deep beneath the white-sand beaches and swaying palm trees to come up with all sorts of gems and muck."
The Telegraph

"when it comes to intelligent travel journalism, the self-effacing Reeve is your man. This adventures sees him travelling the length of the Indian Ocean taking in hard-hitting stories and ridiculously jaw-dropping scenery."
Total TV Guide
"Bear Grylls meets Louis Theroux" –
Time Out
"5 Stars…Pick of the Day…intrepid traveller Simon Reeve risks life and limb…terrifically varied and engaging."

Daily Mail

"Simon Reeve is like a cross between David Attenborough and Louis Theroux…. The intrepid adventurer and author's latest series takes him on a journey around the Indian Ocean. But this is not a laid back Sunday night travelogue taking in the tropical beauty of the tourist trail – instead Reeve uncovers the darker side of what the region has to offer."

The Times


5 stars…stunning…an informative six-part series, which will make you see this beautiful part of the world in a new light

TV Times

Pick of the Day. At the start you want to tousle his hair and give him sixpence, but by the close his journalism will have earned your respect. Recommended.

The Observer
In an extraordinary encounter Simon accompanies local fishermen as they land a huge bull shark in their tiny boat.


In war torn Mogadishu Simon travels with Ugandan soldiers from the African peace keeping force AMISOM.


Simon snorkels and free-dives with dozens of manta rays, some of the largest and most graceful fish in the Indian Ocean.


Simon joins a group of fishermen catching tuna in the Maldives.


Simon on his travels around the Indian Ocean - photo credit Craig Hastings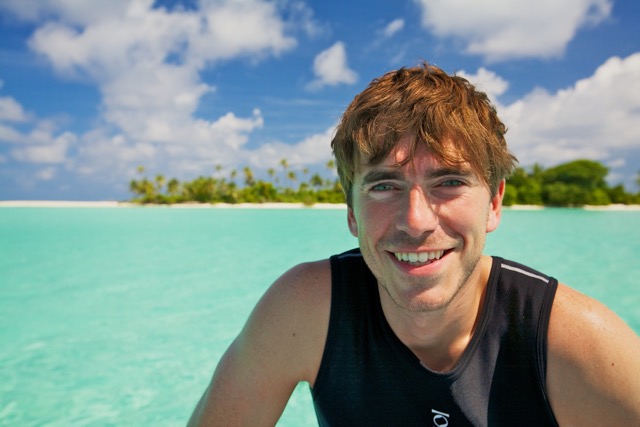 Photo credit Andrew Carter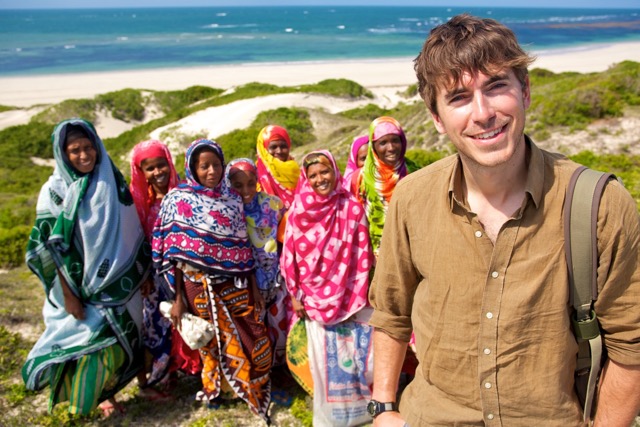 Simon in Mogadishu, Somalia, with cameraman Jonathan Young (right) - photo credit Andrew Carter