** PRESS ANNOUNCEMENT **
NEW BBC TV ADVENTURE CURRENT AFFAIRS SERIES TRANSMISSION: from 7
th
Feb 2016 (not confirmed)

GREECE
with Simon Reeve

In this 2-part series, Simon Reeve travels to Greece, one of the most beautiful, troubled, and extreme countries in Europe. Travelling from the Islands of the Aegean to the rugged and mountainous north, Simon gets behind the picture postcard image to learn more about Greece and the Greeks - and why the country has faced a seemingly endless economic crisis. Along the way he encounters an extraordinary cast of characters from rebel monks and gun-toting priests, to desperate migrants and an injured bear cub.

GREECE WITH SIMON REEVE EPISODE 1 - PI
The first leg of Simon Reeve's journey around Greece takes him from the holiday islands of the Aegean, to the capital city Athens. Off the tiny island of Pserimos Simon goes underwater with a diver who still hunts for the sea creature which made these islands rich: the natural sponge. He hears how the island's population is struggling in the face of declining stocks and the wider economic crisis. Travelling onto Lesvos, just a few miles from the Turkish coast, Simon encounters another of the huge challenges facing the country – the migrant crisis. The island has become Europe's frontline with thousands of refugees arriving daily, fundamentally changing the lives of the islanders. On Greece's largest island, Crete, Simon goes for a ride on a flying trike, then heads into the rugged mountains, where shepherd's are armed. He meets a local priest who is also a trained bodyguard and head of the local gun club. Camping out under the stars Simon learns how for Cretans, memories of Germany's role in the Second World War still colour their view of the Greek debt crisis. In Athens, Simon discovers the effects of that crisis. He hears how hard life is for an impoverished community living in converted shipping containers, and in the city he and the BBC team are threatened by angry protesters and they see a protest quickly descend into a riot. Simon then uses a drone to get an insight into the lives of some of the wealthiest Greeks, who Simon thinks are mostly to blame for the crisis.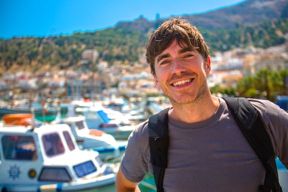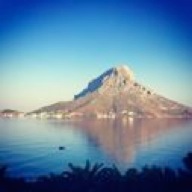 GREECE WITH SIMON REEVE EPISODE 2 - PI
On the second leg of his journey around Greece, Simon travels from the Peloponnese peninsula in the south, to the mountainous, forested north. In the shipyards on the outskirts of Athens, he sees how Greece's once mighty shipbuilding industry is now on its knees as unemployment here has skyrocketed to 80%. Yet a few hours' drive away, Simon finds migrant labourers in appalling conditions getting paid so little that even Greece's army of unemployed won't touch the farming jobs on offer. Simon hops on a train that takes him through stunning scenery to Thessaloniki, Greece's second city, where he attends the national military parade – where the huge armed forces show off their impressive weaponry. In a tiny country that has more tanks than Britain and France combined, Simon reflects on the rampant overspending that helped to cause Greece's economic collapse, then goes for a few drinks at a glamorous bouzoukia nightclub where people chuck trays of carnations at singers. In the far north of Greece Simon travels through an extraordinary mountainous landscape, very different to the familiar images of Greece as a country of beaches. He treks to one of the finest sights in Europe, the deep Vikos Gorge, and then goes in search of Greece's powerful predators, encountering bears and a shepherd now using traditional sheepdogs to scare off wolves.
Greece is a country still surprisingly dominated and defined by religion and Simon's next stop is the stunning pilgrimage site Mount Athos, home to 20 isolated monasteries. This is the spiritual heartland of the Greek Orthodox Church – and Simon visits the most extreme monastery of all, home to rebel monks who have been excommunicated by their own church for being too hard-line.
Finishing his journey in the far north east, not far from the Turkish border, Simon discovers a forgotten Muslim community that has lived within Greece's borders since the 1920s. After decades of being treated as second-class citizens, Muslims here are now managing to integrate. Then he goes to an olive grove to meet a young Greek entrepreneur who has bucked a trend of people emigrating, and actually returned to Greece to help rebuild the country. It's a hopeful ending for a journey around a beautiful but troubled land.
------------------------------------------
SIMON REEVE is an adventurer and New York Times bestselling author who has travelled to more than 110 countries making multiple award-winning documentaries for the BBC. They include Caribbean, Sacred Rivers, Indian Ocean, Tropic of Cancer, Equator, Tropic of Capricorn, Pilgrimage, Ireland, Australia (Winner of the 2013 British Travel Press Award for Broadcast Travel Programme).
The unique mix of travel and issues in Simon's programmes has earned him awards and praise. The Times has said "Reeve is in a class of his own". Simon has received a One World Broadcasting Trust Award for "an outstanding contribution to greater world understanding" and the prestigious Ness Award from the Royal Geographical Society. His unique brand of documentaries, combining travel and adventure with global environmental, wildlife, and conservation issues, has taken him across jungles, deserts, mountains and oceans. He's been undercover in repressive regimes, dodged bullets in war zones and travelled through some of the most remote and beautiful regions of our planet.